Canyon Country Plumbing – Full Service Plumber
Full Service Plumber and Plumbing Repair Services in Canyon Country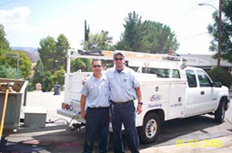 Canyon Country plumbing provides you with an expert full service plumber or plumbing contractor that performs numerous plumbing repair services throughout the Los Angeles Metro area. Canyon Country Plumbers have been serving the Canyon Country area for 72 years while using the most technically advanced plumbing equipment and techniques. The Canyon Country plumber will provide prompt and professional plumbing repair services.

We offer plumbing services for all residences and commercial properties located in the Canyon Country area. Whether you need leak detection or earthquake valve inspection, we are a full service plumbing company that provides customized plumbing services for anyone located in the Canyon Country area.

 If you live in Canyon Country and are in need of a full service plumber don't hesitate to call Canyon Country Plumbing at 800-729-8149. You can also fill out our Request Services Form and we will respond to your inquiries as soon as possible.